Bogota
Welcome to Bogota, the capital of Colombia, located in the center of the country on a vast plain at 2,600 meters above sea level and with a moderate temperature has a population of eight million people from all corners of Colombia; a city as diverse as the entire country.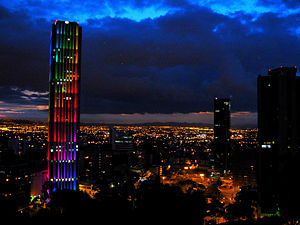 Declared World Book Capital by UNESCO and Iberoamerican Capital of Culture by the UCCI, Bogotá has become one of the most important cities of the continent, with public spaces such as plazas, streets and modern avenues. Its Mass Transit System is considered one of the most important in Latin America and a model for transportation systems in the country and the continent. The city has the world's largest bicycling network –the Ciclovía, which covers close to 300 kilometers.
The city, which was declared by the prestigious New York Times as one of the 31 destinations to visit in 2010 is an inspiring city with millions of amazing stories that surprise visitors every day.
The city of Bogota is surrounded by a savanna in all directions except the east. The savanna is part of the "altiplano cundiboyacense", the vast high plains that extend from the city into the departments of Boyacá and Cundinamarca . It offers as lodgings beautiful haciendas, many in the midst of flower plantations. The Boyacá department, on the other hand, has awesome landscapes that thrill the eye. Locals are kind and hospitable people, and their cuisine is delicious. The entire "altiplano" is agricultural land in a cold climate.
Turist Information and Recommendations
Climate
Bogota's temperature ranges from 12º C (54º F) to 18º C (64º F).
Transportation
Transmilenio: (buses on exclusive lanes) costs $1,400 Colombian pesos (about US$0.80)
Ordinary buses: tickets are $1,100 Colombian pesos (about US$0.60)
The Gold Museum, a magic treasure in the center of Bogota
Simply entering the Museum is enough notice its magical character. Part of legacy of mysterious cultures of which we only have fragmentary visions is right there in plain sight of visitors.
The little that remained after all the barbarity and looting is exhibited - a treasure many pirates would have dreamt about. Hundreds, millions of pieces that survived the fog of many days and the rust of time lead us to think that these people, our ancestors, should have been named "People of Gold".
The Bogota Gold Museum contains close to 34,000 gold pieces, plus 20,000 bone, stone, ceramic, and textile articles belonging to 13 Pre-Hispanic societies: Tumaco, Nariño, Cauca, Calima, San Agustín, Tierradentro, Tolima, Quimbaya, Muisca, Urabá and Chocó, Malagana, Zenú, and Tairona.